EcoGeco brand, specialized in the production of women/men jeans in organic cotton dyed with vegetable indigo originated in 2010 thanks to the idea of Claudia Lubrano and Giampaolo Bianchi, experts of the textile sector.
We have been working in the clothes business for over thirty years as sales agents and have always been active and sensitive towards environmental themes.
The certainty that what we wear is as important as what we eat, convinced us in the second half of 2009 to invest in the production of eco-friendly jeans.
Jeans nowadays are a very polluting and globalized product, often imbued of chemical substances in contact with our skin. We often forget that jeans are a symbol of freedom, the second skin of who wants a better world so we have decided to make them become a reality.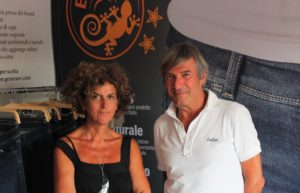 Besides organic cotton, we have chosen to use vegetable indigo dye, one of the most ancient pigments, obtained from the maceration of indigofera tinctoria that confers a shade of colour which distinguishes it from chemical dyes both for its brightness and intensity.
We want to propose an idea of quality that combines environmental and ethical aspects, promoting through our local production, a sustainable product, both from the environmental and social point of view, by recovering and improving the productive know how that distinguishes the Venetian area in the production of jeans.
We use cotton that comes from organic cultivations dyed with vegetable indigo that holds the Gots certification. We pay great attention also in the laundry treatment, respecting the environment and using ecological processing and/or products.
All applied accessories are animal free.
Furthermore, the productive chain is carefully selected and controlled by experts of a sector that has been at the top of the Italian economy, contributing to affirm the made in Italy worldwide.
The samples are carefully studied to give maximum comfort in wearability, two for women (Altair and Kochab) and two for men (Genel and Thabit) and are well finished in the minimum details to offer comfortable jeans, beautiful ,seductive and fit for any occasion or age.
The emblem of our product is the gecko (in Italian Geco), a tiny harmless animal that lives in harmony with nature just like EcoGeco jeans.
Acknowledgements
May 2012 EcoGeco, the Venetian jeans in organic cotton zero km received the Città Impresa Prize, an important acknowledgment promoted in the fifth edition of the Festival with the same name that wanted to reward the green thinking of the territory.
January 2013 EcoGeco is among the 20 realities included by Symbola (Foundation for Italian Quality) in the publication of "Voyage in the Quality of Veneto" – BQI Bank of Italian Quality.
May 2013 Claudia Lubrano founder of EcoGeco is among the 10 entrepreneurs protagonists of "Italiax10. Women's entreprise" at Antiruggine of Castefranco Veneto (TV)